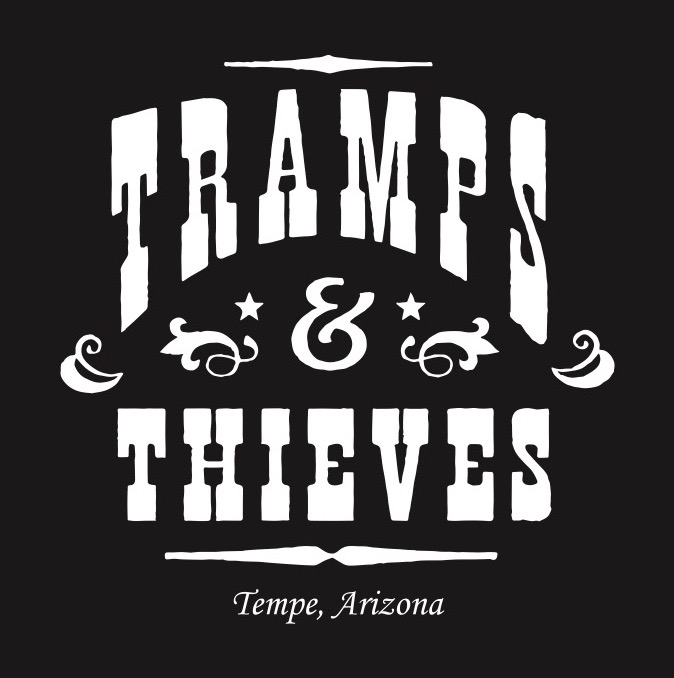 Tramps & Thieves has been called: "A Country Folk Rock band with an Outlaw Hippie Attitude." The band is comprised of dual lead singer-guitarists J. Scott Howard and Emmett DeGuvera, bassist Andy Jensen, and drummer Scott B. Seymann.
With its unique southwestern sound, Tramps & Thieves has been a cherished staple in the Arizona music scene since 2001. The band recently released its fourth album, Galloping Hearts, which is a follow up to its previous three albums, Mill Avenue Cowboys, Spittin' Into the Wind, and Perennials. (Go to our MERCH page to purchase.)
Tramps & Thieves continue to play to packed audiences around the Valley and state-wide, including shows with Jason Isbell, The Gin Blossoms, Dead Hot Workshop, Shurman, The Pistoleros, and Arizona's other treasured rock band, Roger Clyne & the Peacemakers. They occasionally make their way back toward the midwestern USA playing shows along the way.
Tramps & Thieves remains one of the few Arizona bands that releases authentic, independent music. With influences like Tom Petty, The Black Crowes, The Jayhawks, The Band, Wilco, Ryan Adams, and The Rolling Stones, it would be difficult to go wrong; however, don't expect these guys to sound like a carbon copy of anything you've ever heard. They have a unique sound, and if that sound is somehow familiar, you might have heard their hit "Porcupine Jacket" in the 2008 teen comedy major motion picture, Sex Drive. Also, keep an ear out for their music to be included in the upcoming film, Battlecreek, directed by Alison Eastwood.
Although they are based in Tempe, AZ, Tramps & Thieves is committed to making its way to as many people and places as possible. A European Tour is being planned for the Fall of 2015. By far and away the best way to experience this band is where they are most comfortable, on stage, so make the time to get out and support live music!
Don't miss out, sign up for our EMAIL LIST.